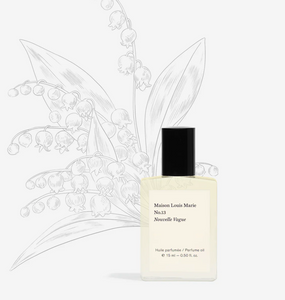 This refreshing, rich scent takes you to the Italian island of Capri where Marie frequently traveled with her sister while visiting the Amalfi coast. Nouvelle Vague transports you to spring on the Italian coast, where you're walking on a tiny oceanside street lined with blooming wildflowers and native lemons. Its signature aroma captures an uplifting citrus accord, a sheer floral bouquet, and coconut wrapped with Tuscan fig and agave throughout. Tonka and undertones of golden woods ground this blend in comfort and warmth.
Top note: Muguet, Coconut Waters, Lemon
Mid note: Tuscan Fig, Tonka, Agave
Base note: Vetiver, Amber, Santal 
3 ml mini roller glass bottle.
Eau De Parfum has an alcohol base and sprays on, while Perfume Oil is a roll-on with a blended base of safflower, sunflower, and rosemary oil. Eau De Parfum allows the scent to project more away from the body, while Perfume Oil has a more highly concentrated fragrance that stays more intimate and close to the body.