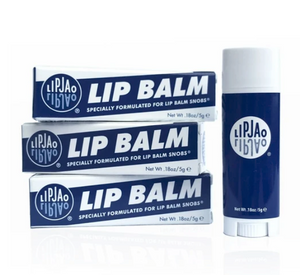 Specially formulated for lip balm snobs
LipJao™ - .18oz/5g Tube
Paraben and Petrochemical free. 34% Shea Butter, Zinc Oxide and Meadowfoam Seed Oil for natural UVA/UVB protection.
This lip butter blend contains:
• Rosehip Oil - known to treat dry, irritated, weathered skin
• Jojoba - rich in Vitamin E
• Pumpkin Seed Butter - revitalizes damaged skin while being rich in vitamins A,E,C. 
• Sea Buckthorn - high in Vitamin A which aids in healing 
• Propolis - which helps heal and soothe cracked skin
• Natural light flavor with essential oils of grapefruit, anise, tea tree and palmarosa.