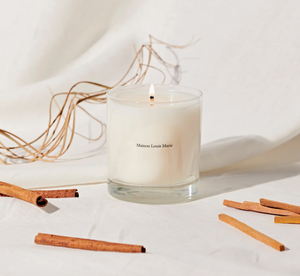 Surrounded by an ancient mysterious forest, Balincourt is the name of our family home where we took long walks on a magical trail called 'Lover's Lane'. This romantic scent is a Sandalwood fragrance with a dominant Cedarwood and Sandalwood accord that's supplemented by a spicy cinnamon nutmeg complex with an earthy vetiver note.
Top note: Sandalwood, Cedarwood
Mid note: Vetiver, Nutmeg, Cinnamon
8.5 oz in clear glass vessel. 
Ingredients: Soy Wax Blend, Fragrance
Formulated without Parabens, Sulfates & Phthalates
Vegan & Cruelty-free, Mindful of your body and the environment.