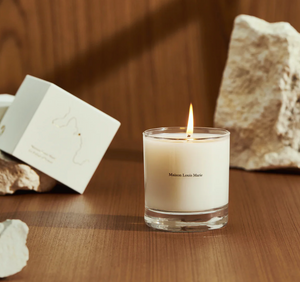 This limited edition holiday candle encapsulates the holiday season, evoking scents of a warm and cozy fire within a cabin deep in the Swiss Alps. Le Refuge d'Ernest pays homage to Marie's great great great grandfather, Ernest Solvay, a Belgian scientist and inventor who developed a passion for nature and exploration. He was quite fond of climbing the Matterhorn and through his early explorations, he realized the dangers of climbing this area due to erratic weather conditions. In 1915, he decided to commission a little refuge for safety in the form of a tiny cabin just below the peak of the Matterhorn - should a climber get stuck in bad weather. Imagine, upon lighting the candle, being transported to a cabin in the Alps and taking in the warmth of the fire before preparing to ascend to the top of the Matterhorn. 
Top note: Applewood, Amber, Citron
Mid note: Clove Leaf, Canella Bark, White Birch
Base note: Oakmoss, Sandalwood, Cedarwood
8.5 oz.
Ingredients: Soy Wax Blend, Fragrance
Formulated without: Parabens, Sulfates & Phthalates
Vegan & Cruelty-free, Mindful of your body and the environment.